😍 Maximum Comfort For Your Back & Neck! 
📦 3 - 7 Days USA Delivery (Free Shipping)
🖤 5 Years Guarantee
💰 30 Days Money-Back
Relieve Back & Neck Pressure
The unique modern design and riding style can replace any traditional seat. You are instantly aware that you have improved posture. Nobel Kneeling Chair relieves the pressure in the lower back and strengthens the core while working.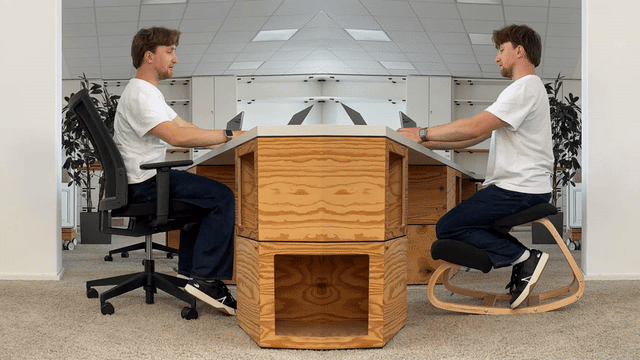 Traditional Chair VS NOBEL™ Kneeling Chair
Why Do Kneeling Chairs Help?
First, the kneeling chair provides you with a healthy position for your back.
Because they keep your back in action and help you to maintain a balanced sitting position.
This chair works wonders and after using it for a month, as people tell, that sitting posture is being corrected, and back pain also goes away. This is a perfectly designed chair with excellent quality.

The rocking feature corrects the sitting posture and it's very comfortable to sit and work on it. 
❌ Forget About This: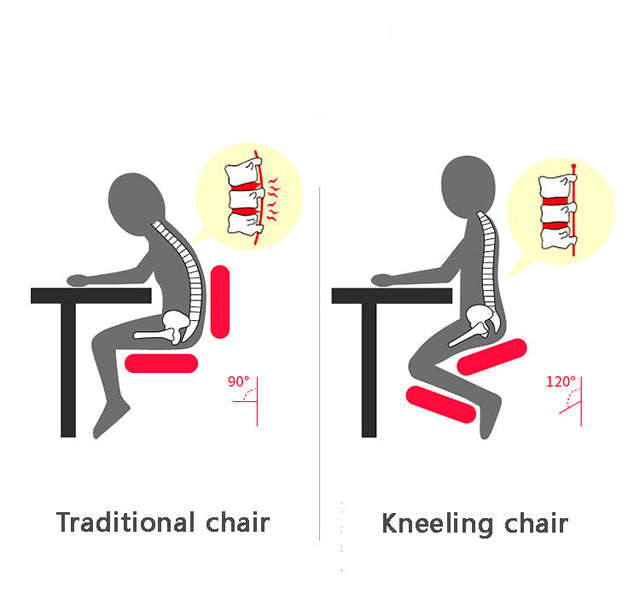 Big Memory Foam Pads and Natural Wooden Frame
Our pads are made of memory foam inside and high-quality fabric outside. 
The carefully polished wooden frame is a premium natural design.
The chair has a weight capacity of 300 lbs. 
Save The Space In The Room!
This chair blends seamlessly in any working space! You can quickly put Nobel up on your desk and have extra space!
The traditional office chairs are kind of big & chunky and visually take up the whole space.

☎️ 📲 Got questions? Call us!
Nobel Kneeling Chair Is Helpful For Back | Honest Review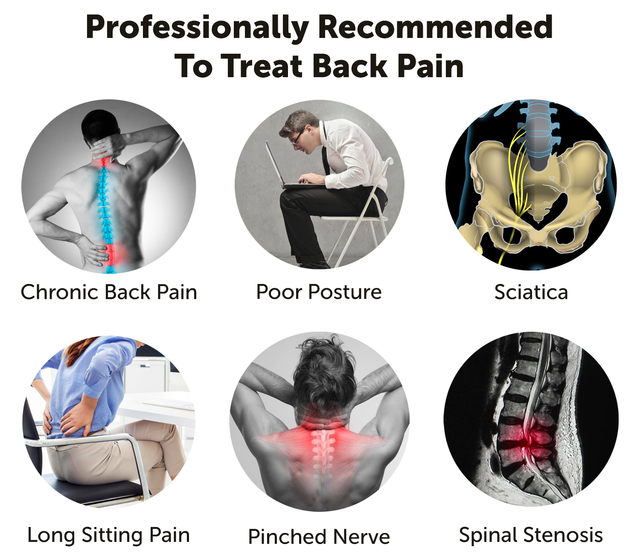 FAQ. All answers are here.
Sitting on the NOBEL produces too much pressure on my knees and spine, isn't it?
The name "kneeling chair" can be misleading as it leads you to believe that your knees are replacing the function of your bottom and taking the bulk of your weight. This isn't the case.
Your bottom should still carry the bulk of your weight, and the knee pad is there to support your shins. 
Desk Height
It was designed to work with a standard 29"-34'' inch (75 - 90 cm) height desk.
This kneeling chair will be perfect for you!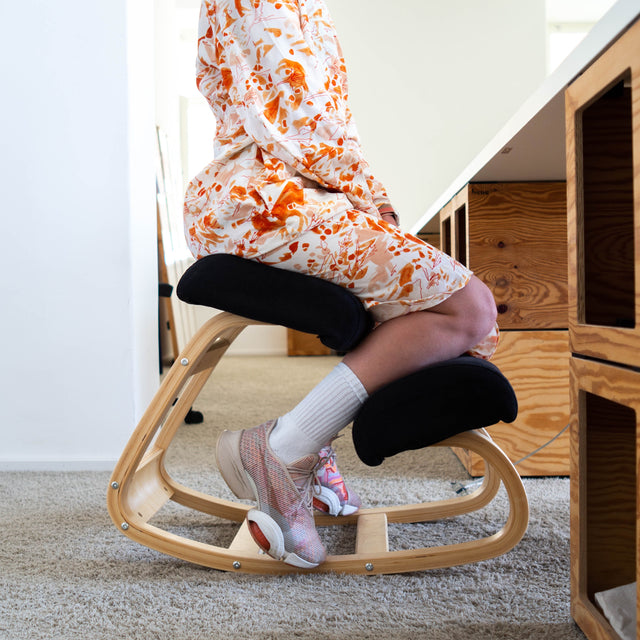 Height Limits. Is it suitable for tall people?
Our chairs work best for people between 4'5" and 6'7".
Because of the ideal model design, it hasn't to be adjusted. 
Do I need Back Support?
The idea of the kneeling chair is to be backless!

By their very nature, Kneeling Chairs provide no spinal support, whereas a typical office chair is designed from the ground up to give back support.
This may be off-putting to some users, but it is the point of a kneeling chair since it is through this design choice that all of the stated health advantages are reached.
Rocking on the chair
Rocking is a critical feature of the chair as it allows your spine to be in movement.
It is beneficial for the back to have little moves during the seating.
Can teenagers use it also? 
Yes!
We highly recommend kneeling chairs not only for adults! Using the NOBEL™ kneeling chair can help to improve a teenager's posture. 
Because of the ideal model design, it hasn't to be adjusted. 
Our chairs work best for people between 4'5" and 6'7".
What is the weight limit?
This chair will be great for you! Right now, our chairs have a weight capacity of 300 lbs.
Specs
Height: 22"
Length: 28"
Width: 21"
Weight Capacity: 300 lbs
Recommend Height: 4'5" and 6'7"
Shipping Info (Free 1-5 Days Delivery)
We are glad to offer you free 1-5 days delivery to any location in the USA (not including Alaska & Hawaii)*
*We can deliver to Alaska & Hawaii, but it will cost an additional $89.
Returns & Refund
Not happy with your order? Return it without any problems in 14 days after receiving.
Just contact us at support@vilno.co
We will provide you with an excellent support.
I still have questions
We are glad that you are so interested in our product!
Please feel free to contact us at:
support@vilno.co
Foot Reflexology Tool | Ultimate Foot Massager Mat | Acupressure Feet Trigger Points
🦶 Ideal Wellness Routine! 
📦 1 - 4 Days Delivery (Free Shipping)
😅 No assembly required!
💰 30 Days Money-Back
What is Foot Reflexology?
Foot reflexology is an ancient practice that has been used for centuries to promote wellness and relaxation. By applying pressure to specific points on the feet, you can stimulate energy pathways in the body. This practice has been used to relieve stress, reduce pain, improve circulation, and promote better sleep. If you're looking for a natural way to improve your overall well-being, foot reflexology may be just what you need!